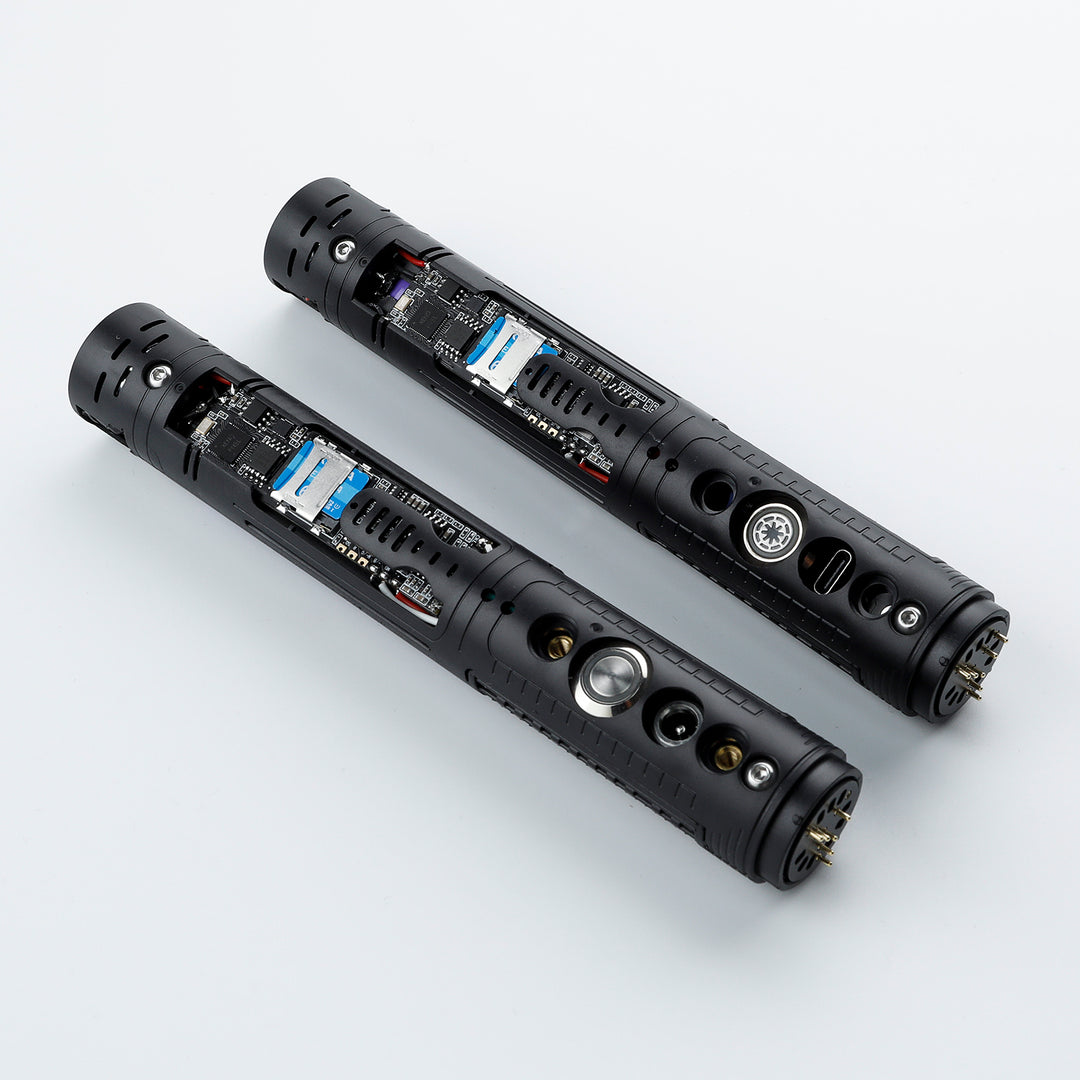 Special Cores for Character Collection Sabers DamienSaber Lightsaber XRGB3.0 Xenopixel XENO3.0 Core Electronic Kit Bluetooth APP Connection Core
Regular price
$129.00
Sale price
$88.00
/
---
This is a special core only for a specific lightsaber. Remember to leave a message for which character saber or chat or email to confirm before place your order.
Damiensaber newest version preweled electronic kits and soundboards are launching!
Baselit stunt, baselit 16 XRGB3.0 and xenopixel XENO3.0 versions are all available.

Because our lightsaber is in the stage of upgrading from a round hole charging port to a Type-C charging port, so we offer both different charging port electronic kits for buyers.

Notice: The kits only suitable for sabers from Damiensaber. And the whole kit you buy from this link can not fit special hilt like thin neck saber hilt(for example luke skywalker saber),crystal saber hilt and double blades hilt.



Tips: Special kit is for your special sabers, contact via online chat or mail to info@damiensaber.com for further confirmation to communicate clearly before placing an order.



Features of different soundboard:
For baselit stunt version,this is for customers who don't want sound, without any sound it will lose a lot of fun, choose carefully.



The upgraded functions for XRGB3.0 and XENO3.0 are as follows

1. Support Bluetooth APP connection, and can be upgraded through Bluetooth to switch the machine on and off, change the color, adjust the volume, adjust the brightness and blade length, select the sound package and light effect, check the battery percentage, adjust the sensitivity, and restore the factory settings with one key, etc. configuration.

2. Using the XRGB 3.0/XENO3.0 2-in-1 soundboard to achieve more precise motion control through more sensitive sensors.

3. Use WAV original sound files to play, the audio is clearer and undistorted, and the high-fidelity power amplifier combined with 4W high-power speakers makes the sound louder.

4. Added high and low pitch waving, increase the tail sound of waving, and make the swing more realist and intense. You can feel the difference between you swing fast or slow.

5. Diversified color changing methods: fast color changing, rotation color changing, infinite color changing.

6. Diversification of somatosensory opening sabers: swing to turn on, rotate to turn on, pull and push to turn on.

7. A variety of light effects can be configured: percussion flash, sword fight, force, and gun light effects.

8. Added tail sounds for fighting saber, dragging saber, parrying and melting, which sounds smoother.


For Baselit 16 XRGB3.0

XRGB3.0 comes with 16 sets of sound effects, and 4 movie character lightsaber sound effects added to give you a more immersive duel experience; and more sets of sound effects can be added through SD card.

Notice: XRGB3.0 16 sets sabers are delivered without SD card by default. If you need an SD card, you need to add $10 to the unit price.

If you need SD card, you can choose "XRGB3.0+SD card" attribute

Motion control and The Flash on Clash (FOC) function can be turn on/ off.

In the previous version, the FOC function could not be turned off, but our fans reported that the FOC function made them lose points when participating in the competition. Therefore, the FOC function of the baselit version can be directly turned on/off now. It is convenient for you to turn off this function when you don't need it.

XRGB3.0 Baselit 16 sound fonts lightsaber has got three light effects Steady / Pulse / Unstable

XRGB3.0 Baselit 16 sound fonts lightsaber has got three blade model in total Standard mode / Ghost mode / Blaster mode
Tips: Ghost mode and Blaster mode are turned off by default, you can turn on these two modes by Saber App.



For XenoPixel XENO3.0

1. The XenoPixel V3 XENO3.0 board is our latest, most cost-effective 2 in 1 motherboard / soundboard, which can realize free switching between pixel and RGB.
Pixel to RGB mode - Hold button 13 seconds when saber blade is OFF. After switching pixel to RGB mode, the blade only lights up the bottom,you should change the blade into RGB blade and use a pixel to RGB converter.

2. The xenopixel version includes a micro SD card defaultly, which allows you to add a vast library of sound fonts.

3. An array of new special blade effects make the XenoPixel V3 more versatile than any economy class board on the market.

4. Special blade light effects include Steady,Pulse,Rainbow blade,Candy blade, Unstable, Crack blade,Fire blade, Flash blade.

5. Ignition(Pre-on)/Blade Styles: 12 blade modes in total. Standard blade, Velocity blade, Torch blade, Blaster blade, Ghost blade, Broken ignition, Stack ignition, Photon ignition, Warp ignition, Phaster ignition, Scavenger ignition and Hunter ignition.
Tips: Velocity, torch, blaster & ghost mode are defaultly turn off.

6. XenoPixel V3 features a new firmware upgrade feature - by simply adding a special upgrade file.Now you can upgrade it by Bluetooth APP with ease.

7. XENO3.0 is 34 sets of sound fonts (these 34 sets are the same as before, no change).
In stock, ready to ship

Inventory on the way