---
Crossguard Sabers: The Modern Evolution of a Classic Weapon
---
Crossguard sabers have been a familiar sight in many science fiction and fantasy stories, capturing the imagination of fans with their unique design and lethal capabilities. This iconic weapon has taken on numerous forms and variations over the years, from the double-bladed lightsaber wielded by Darth Maul in the Star Wars franchise to the crystal-adorned weapons used by the Knights of Ren.
Despite their different appearances, all crossguard sabers share a basic design element - the presence of one or two additional blades or "crossguards" perpendicular to the primary one. These crossguards serve both a functional and aesthetic purpose, adding an extra layer of defense and making the saber look more impressive.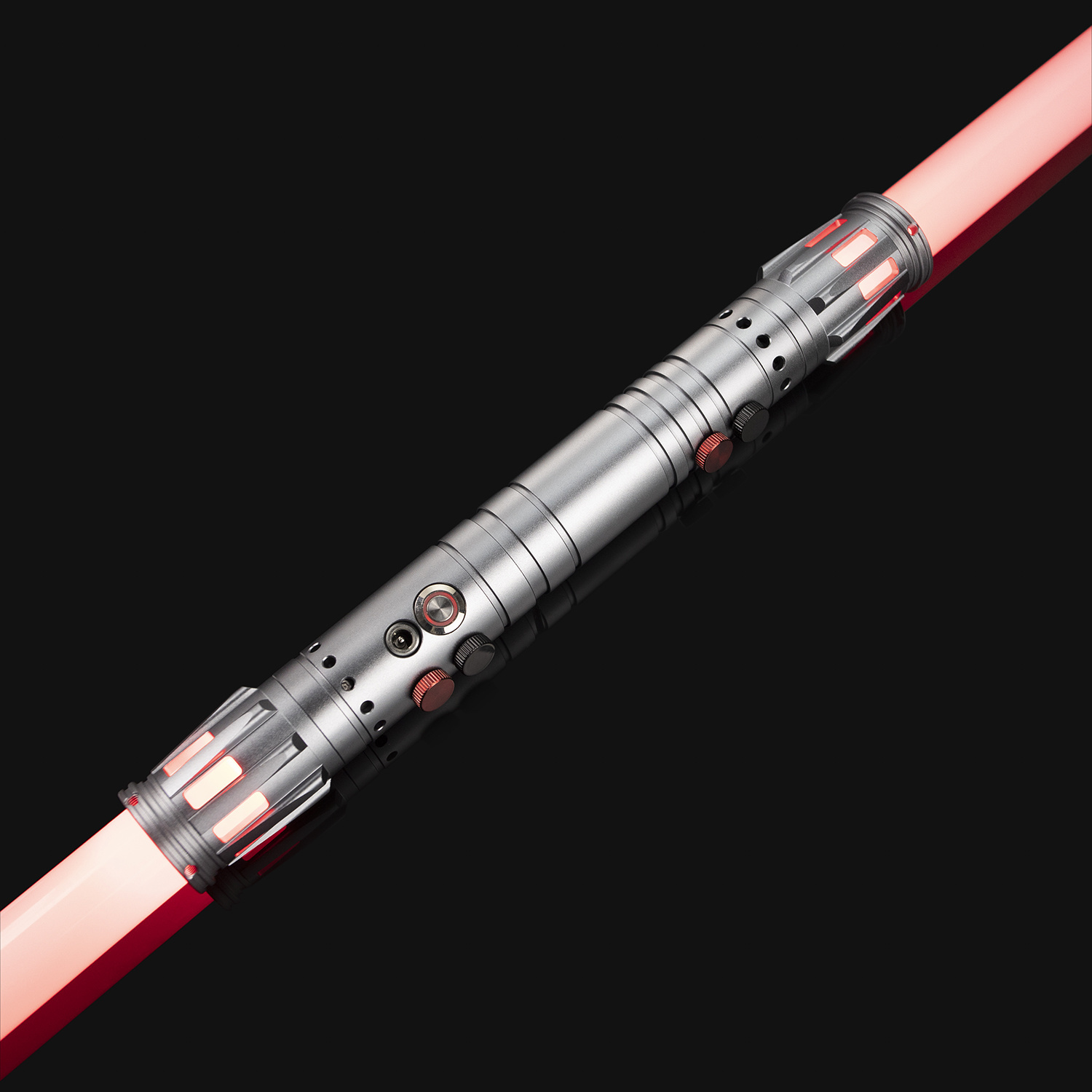 But beyond their visual appeal, crossguard sabers have also undergone a significant evolution in recent years, thanks in part to the advancements in technology and the growing demand for unique and personalized weapons.
One notable example of this evolution is the introduction of crossguard sabers that feature a "fire blade" effect. Instead of typical laser-based blades, these sabers use a patented technology that produces a real flame that flows from the exact position of the blade. This creates a stunning visual effect, making the weapon look like a true extension of the wielder's power.
Another example is the addition of sound and motion sensors to crossguard sabers, allowing them to respond to the user's movements and produce realistic sound effects. This not only creates a more immersive experience for fans but also adds a tactile element to the weapon that enhances its overall effectiveness.
Of course, as with any new technology, the introduction of these advanced features also posed challenges. For example, the production of fire blades required extensive safety checks and the implementation of special training programs to ensure that users can handle the weapon safely. Similarly, the addition of sensors required meticulous calibration to accurately capture the user's movements and produce the desired sound effects.
Despite these challenges, the continued demand for innovative and personalized weapons has allowed crossguard sabers to grow in popularity and appeal to a wider audience. Today, enthusiasts can choose from a range of designs, colors, and finishes, each with its own unique personality and backstory.
For example, some crossguard sabers are inspired by ancient mythologies and feature intricate engravings and symbols that reflect the story behind the weapon. Others are designed with functionality in mind, featuring ergonomic handles and lightweight materials that are both easy to grip and handle for extended periods.
Ultimately, the success and continued growth of crossguard sabers can be attributed to their ability to capture the imagination and appeal to a wide range of fans. From the casual observer to the hardcore enthusiast, there is something about these unique weapons that speaks to everyone.
In summary, crossguard sabers have come a long way from their humble science fiction beginnings, evolving into highly advanced and personalized weapons that can be customized to suit any user's needs. With continued innovation and creativity, it is safe to say that crossguard sabers will remain a beloved part of science fiction and fantasy culture for years to come.
The latest versions XRGB3.0 and XENO3.0 we released recently have covered all crossguard lightsabers on our website, you can buy and enjoy them with ease. If you have any questions, please click the online chat button at the bottom right, or send an email to info@damiensaber.com.
FAQ
How to choose the blade length?
Each lightsaber is delivered with a 92cm/36" lightsaber by default. If you need other length, such as 72cm/28",82cm/32", please leave a message on the order page, and we will deliver the blade according to the length that you marked. In addition, the xenopixel lightsaber is equipped with a pixel blade, and the baselit lightsaber is equipped with a baselit blade.
How long will my order take to ship?
Normally Damiensaber Team need 1 to 3 working days to process the order, and when your item is dispatched it normally takes 3 to 7 working days for delivery. Once your item has been shipped, we will send a notice email to you together a tracking number. If you are in a remote area, it requires up to 14 working days. You will receive a shipment confirmation when your order has shipped and tracking information within 24-48 hours of shipment. If you need a more definitive time for shipping, kindly email us at info@damiensaber.com and we can tell you more specifically when a particular lightsaber you are ordering will ship out.
How Long Does It Take to Full Charge? And How Long Will It Last After It's Done Charging?
The batteries need to be fully charged for four hours in-between uses. Typically, the battery life is roughly two hours. The reason for the slow charge is because the charger only has a 5V and 0.5A output. Do not use a power source that is over 1A and 5V to charge your lightsaber!!!
Can two hilts be connected to make a double-bladed saber?
Yes, most of our sabers are compatible with each other to be able to make a double-bladed saber. If not, contact our customer service or online chat to speak out your requirement, we will try our best to solve your needs.
What is a blade? Are the saber blades removeable from the hilts? Can they be replaced?
A lightsaber blade is a brilliant part of a lightsaber, which made from polycarbonate, and generally about 72cm/82cm/92cm length and 2mm/3mm thickness, extending out of the emitter section when the lightsaber is activated and recedes when the lightsaber is deactivated. All of our lightsabers whether baselit, Xenopixel and proffie come equipped with a removeable and replaceable blade.
Can I order an empty lightsaber hilt?
Yes, we offer empty lightsaber hilts which are VHC parts for you to custom your own lightsaber.
What is lightsaber hilt? Does a hilt come with a blade?
The lightsaber hilt, also called as the saber's handle,is the basic and all encompassing part of a lightsaber. It contains a combinatio handgrip, blade emitter, button parts, lightsaber kits and pommels. Every saber can come with a lightsaber hilt and a blade. But you can buy sperate empty hilt without blade for futher custom.
Lightsaber blade plugs, also called safety plugs, which are designed to be installed in your handles in place of a blade. Plugs will give the hilt a cool look with the blade removed and help to prevent shining a high powered LED directly into yours or someone else's eyes. Check out Damiensaber Blade Plugs here.
Can I have you guys make a saber hilt in a unique way?
At Damien, we always love to be as accommodating as we can. Very glad to receive your message and share with us what you have come up with. If it is possible to be achieved, you can be assued that we will do it for you.
Can I order a custom lightsaber I have come up with?
Yes, we provide with custom lightsaber service all the time. Contact us to share your designs.